B-Town Eyecare is pleased to offer the iWellness screening retinal scan. This technology allows us to run a fast, painless screening test that provides a detailed SD-OCT scan report to show a healthy eye or detect early signs of disease.
What Does the iWellness Exam Reveal?
Sight threatening diseases such as glaucoma, macular degeneration, diabetic retinopathy often have no outward signs or symptoms in the early stages, which is why eye exams, including a thorough retinal evaluation, are important to protect vision. In an effort to provide a more thorough eye exam, our practice has incorporated the iWellness Exam; SD-OCT retinal scan as part of our comprehensive eye exams.
Like an MRI of the eye, but taking only seconds to perform, the iWellnessExam™
provides high definition cross sections of your retina and optic nerve which can reveal signs of disease in exquisite detail that are invisible to traditional examination methods.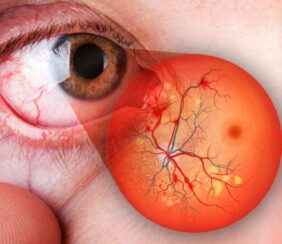 Together, these unique technologies can help detect potentially vision threatening and systemic diseases in their very early stages. They also provide your doctor with a permanent baseline record of your retinal examination for comparison during future exams.
As part of your pre-examination work-up, our technician will perform these two tests which the doctor will review with you during your examination. Dr. Bansal will then be happy to answer any questions that you may have about the results of these tests at the time of your exam.
What Patients Are Sharing About Us
"Dr Bansal is one of the kindest health care professionals I've had the pleasure to meet. When I got shingles on my face and around my eye she and her staff did not take my condition lightly – they got me in immediately and she gave me her personal cell to reach her over the weekend in case the shingles started into my eye (which can cause serious complications). She is very thorough with her exam, taking her time and ensuring my Prescription is correct".
Patient E.A.S.
Normandy Park, WA
Request Your Appointment Today!
If you'd like to find out more about our practice or would like to schedule an appointment
with B-Town Eyecare, we invite you to give us a call today at 206.242.8545 or,
REQUEST APPOINTMENT
Please provide the details below and we will do our best to accommodate your request.
B-Town Eyecare
19987 1st Ave S, Ste 105
Normandy Park, WA 98148
Phone: 206.242.8545
Fax: 206.244.2020
Our Culture & Core Values
Innovation | Collaboration
Respect
Authenticity | Gratitude

© 2023 All Rights Reserved | B-Town Eyecare