Lens Treatments & Options
We are pleased to offer the latest in lens technology so that you and your children can have the best protection for your eyes available.
When you see clearly and are happy, we are happy!
What Are Lens Treatments?
A lens treatment is a special additive that either bonds with the lens or is built into the lens during the lens manufacturing process. Lens treatments are available as individual additions to lenses and are also commonly bundled into single lens products for convenience and maximum benefit to your eyes.
More comfort. Better vision. Reduced glare from oncoming headlights. Greater cosmetic appeal. It might be hard to believe, but anti-reflective lenses can provide all of these benefits.
An anti-reflective treatment applied on the front and the back of prescription lenses greatly reduces the light reflected by the lens surfaces. As a result, your eyes appear clearer behind the lenses, vision is more defined, and glare from reflected objects—especially headlights at night—is virtually eliminated. Plus, if you have a high-powered "strong" prescription, anti-reflective coating makes your eyes appear more natural.
There's no such thing as scratch-proof lenses. (Even glass lenses can be scratched!) Scratches, while not likely to affect your lens performance, are an annoyance that can interfere with clear vision. That's why you should always request scratch-resistant lenses (treatment) for your eyeglass lenses.
Many of today's lens products have hard scratch-resistant protection built into the lens—a hard surface treatment that is specifically designed to resist scratches. Scratch-resistant lenses can go a long way toward minimizing the everyday wear and tear we put on our eyewear.
Lens fogging is caused by tiny water droplets that form by condensation on the surface of eyeglass lenses when the lenses are significantly cooler than the surrounding air temperature. Anti-fog treatments typically work by uniformly spreading these water droplets across the lens surface, so they become invisible.
There is no shortage of information about ultraviolet rays (UV) and how prolonged, unprotected exposure to UV can lead to skin damage.
It's why we wear sunscreen when we're in the sun for extended periods of time. Sunscreens offer various degrees of UV protection by filtering out or "blocking" the harmful, invisible UVA and UVB wavelengths of light. But did you know the same, serious approach to protecting your skin also applies to your eyes?
Another beneficial lens treatment is an invisible dye that blocks UV light. Just as sunscreen keeps the sun's UV rays from harming your skin, UV-protective treatments for eyeglass lenses block those same rays from damaging your eyes.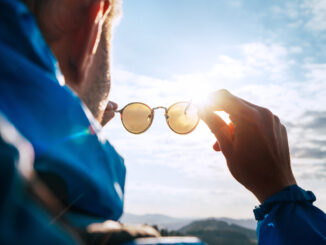 If you've ever felt frustrated at needing prescription glasses and prescription sunglasses to accommodate an outdoor lifestyle, you should consider photochromic lenses.
Photochromic lenses darken when exposed to UV rays. The change is caused by photochromic molecules that are found throughout the lens or in a coating on the front of the lens. When the wearer goes outside, the lenses darken or tint. When the wearer goes back inside, the glasses become clear.
There are a variety of photochromic options available, with choices in color and darkness of tint. One consideration with photochromic lenses is that they do not darken fully when driving in a car because the windshield absorbs most of the UV light needed to activate the tint.
Glare from wet roads, light reflecting off other vehicles, and glare from your own windshield can be annoying and dangerous. To eliminate this glare, we offer polarized lenses.
Polarized lenses significantly reduce glare, decreasing eye strain and increasing visibility. Polarized lenses are the most effective way to reduce glare. Most glare comes from horizontal surfaces, so the light is "horizontally polarized." Polarized lenses feature vertically-oriented "polarizers." These polarizers block the horizontally polarized light. The result is a glare-reduced view of the world.
Computer Lenses & Blue Light Protection
No matter what your particular need, there's probably a specialty lens designed for you.
For example, a specialty lens that is becoming increasingly useful is designed for computer users. Computer lenses have "windows" designed for viewing your computer screen, documents on your desk, the keyboard, and near objects for reading.
The lenses are designed to reduce Computer Vision Syndrome, or CVS, which is characterized by headaches, eye strain, neck and back aches, dry eyes, blurred vision, and double vision.
One of the main problems with bifocal and trifocal lenses is the problem of eye fatigue. It is difficult to switch from one focusing power to another. It can make your eyes tired, and it can even lead to a headache, sore neck and sore back.
An improvement in multifocal design is called a progressive lens. Progressives provide a smooth transition from focusing on nearby to focusing on distant objects because they do not have a distinct line that separates the focusing powers. Instead, a gradual change in power allows the wearer to focus on objects at all distances. Distant objects are viewed through the upper portion of the lens, while near objects are viewed through the middle or lower portion of the lens. These are also great for some computer use.
Years ago, the only materials available for lenses were glass and a hard resin called CR-39. More recently, high index lenses have become available. High index materials are named because they have a higher index of light refraction. Basically, they can do the same job that glass or CR-39 does, but high index lenses are much thinner and lighter. With high index lenses, you can avoid having "soda bottle" lenses.
For many people, different lenses are needed for seeing at different distances. Bifocal lenses allow the wearer to look through two areas of the lens. One area focuses on distant objects, the other is used for reading.
Most of the time the "reading" area is smaller, shaped like a sideways "D", and found in the lower hemisphere of the lens. These bifocals are called lined bifocals or flat tops. If you are focusing on distant objects, you look through the top half of the lenses. To read a book, magazine, or newspaper, you look through the "reading" area. These style lenses are less common and are split horizontally down the middle of each lens. One thing that can be difficult about using bifocals is dealing with the line between the two vision areas. Fortunately, recent technologies have developed a new type of lens, called the no-line, or progressive lens.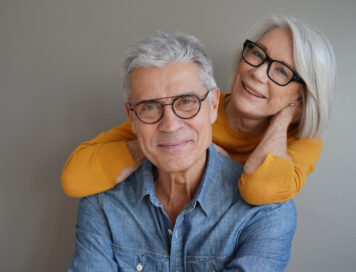 Bifocals allow the wearer to read through one area of the lens, and to focus on distant objects through another area of the lens. As the eyes age, though, a stronger prescription is needed to read. As the bifocal power increases, the range of focus with it becomes shallower, making it difficult to focus on objects at intermediate distances, such as grocery items on a shelf or your speedometer.
Thus, trifocals are necessary for a third prescription for intermediate focusing.
Trifocals, also known as lined trifocals, feature three areas of focusing power, each separated from the other by a distinct line. The three windows allow for focusing on distant objects, intermediately distanced objects, and for reading. The downside of trifocals is dealing with the lines between the different focusing powers. The advantage of this design is that the intermediate and near sections are wider than those created in progressive lenses.


Anti-fatigue lenses provide two corrective powers. The upper portion of the lens aids your distance or intermediate-vision, while the lower portion alleviates the strain of close-vision tasks such as reading and screen work.
This little boost helps reduce the visual fatigue you get after long sessions of close distance focus and is a handy way to get rid of eye strain, blurred vision and even headaches after a long day at work.
Learn more about Computer Vision Syndrome and what you can do to improve symptoms of eye fatigue from increased screen time.
Cosmetic & Specialty Tints
Eyeglasses can be a stylish accessory, a part of your personality, or a way for you to be different. There are a variety of frames to choose from, but you may not know that there are a variety of ways to improve the appearance of the lenses, too. Cosmetic tints are available. These tints offer a variety of colors and shades. You can choose light blue or any color under the rainbow. Some lenses are clear at the bottom and gradually get more colored towards the top of the lenses. There are many ways to adjust your lenses to whatever style suits your personality. Some tints are also functional.
Request Your Appointment Today!
If you'd like to find out more about our practice or would like to schedule an appointment
with B-Town Eyecare, we invite you to give us a call today at 206.242.8545 or,
REQUEST APPOINTMENT
Please provide the details below and we will do our best to accommodate your request.
B-Town Eyecare
19987 1st Ave S, Ste 105
Normandy Park, WA 98148
Phone: 206.242.8545
Fax: 206.244.2020
Our Culture & Core Values
Innovation | Collaboration
Respect
Authenticity | Gratitude

© 2023 All Rights Reserved | B-Town Eyecare