HIGH-LEVEL TECHNOLOGY MEANS HIGH-LEVEL CARE
Our office is furnished with a welcoming atmosphere and the most modern, cutting-edge technology, so your eye care experience will be pleasant, efficient and informative.
SYSTANE iLUX MGD THERMAL
PULSATION SYSTEM
iLux® is a new in-office procedure that allows individualized targeted treatment of evaporative dry eye. The iLux® treatment applies light-based heat to the eyelid, melting the trapped oils within the glands. After warming each lid in two different spots, focus-guided compressions are performed to express oils out of the glands. This allows the doctor to verify treatment effectiveness by viewing the gland oils as they are expressed. More difficult areas can be retreated until oils are expressed.
The iLux® MGD Thermal Pulsation System delivers treatment directly to the blocked meibomian glands with the goal of clearing any obstructions. Treatment of both eyes takes approximately 8–12 minutes.
LIPIFLOW THERMAL PULSATION SYSTEM
LipiFlow® is an FDA-approved treatment for Meibomian gland dysfunction (MGD) — the leading cause of dry eye. LipiFlow® treats MGD by warming and massaging the inside of the eyelids to restore healthy oil production and improve tear quality.
LipiFlow is a treatment device specifically developed to effectively remove blockages from the glands, allowing them to properly function and produce the oils that make up the outer most layer of the tear film. LipiFlow is the standard of care for MGD and was designed to minimize patient discomfort during a 12 minute in-treatment that most patients describe as a gentle lid massage.
DIGITAL RETINAL PHOTOGRAPHY
& IMAGING
We offer retinal photography with our new highly specialized digital retinal camera. A retinal exam can detect diabetes, hypertension, age-related macular degeneration, glaucoma, and other diseases. Undetected, many of these conditions can progress through several stages before they can affect your eyesight.
ZEISS VISUAL FIELD ANALYZER
A visual field test measures the range of your peripheral or "side" vision to assess whether you have any blind spots (scotomas), peripheral vision loss or visual field abnormalities. It is a straightforward and painless test that does not involve eye drops but does involve the patient's ability to understand and follow instructions.
An initial visual field screening can be carried out by the optometrist by asking you to keep your gaze fixed on a central object, covering one eye, and having you describe what you see at the periphery of your field of view. For a more comprehensive assessment, special equipment might be used to test your visual field. We use the Humphrey Visual Field in our office. Each eye is tested separately, and the entire test takes 15-45 minutes. These machines can create a computerized map out your visual field to identify if and where you have any deficiencies.
An Optical Coherence Tomography scan (commonly referred to as an OCT scan) is the latest advancement in imaging technology. Like ultrasound, this diagnostic technique employs light rather than sound waves to achieve higher resolution pictures of the structural layers of the back of the eye.
A scanning laser used to analyze the layers of the retina and optic nerve for any signs of eye disease, like a CT scan of the eye. It works using light without radiation and is essential for early diagnosis of glaucoma, macular degeneration, and diabetic retinal disease.
An OCT scan is a non-invasive, painless test. It is performed in about 10 minutes right in our office.
REICHERT VRX REFRACTION SYSTEM
Dr. Bansal was the first Optometrist in Washington State to implement a new high tech phoropter, The Reichert VRx. This system measures your prescription more accurately than traditional phoropters…all with the touch of a button. The whole process of which is better, "1 or 2" is easier, faster, and precise with this new instrument.
A New Way to Accurately Diagnose Dry Eye Disease
The OCULUS Keratograph® 5M integrates a high-definition camera and corneal topographer into one seamless and state-of-the-art imaging machine. Ocular surface disease is match for this innovative tool, which integrates with computer technology to create detailed, full-color digital images of your eye. It is used to collect specific information including high resolution images and videos so that not only we can diagnose the cause of your dry eye, but also measure it in the future to see if we are making progress with your treatment.
The OCULUS Keratograph® 5 is a groundbreaking piece of imaging equipment that changes the way we diagnose and treat ocular surface eye diseases. This new instrument is among the latest advances in optometry and is especially useful for testing, diagnosing, and treating dry eye disease.
The Icare® tonometer is an easy-to-use instrument that measures the pressure inside of the eye, called the intraocular pressure (IOP). This test is used to detect glaucoma and has revolutionized early detection and control, by making the IOP measuring routine, quick and effortless.
The Icare® tonometer is painless and requires no drops or anesthetic. With its very light touch to the cornea, it measures in only a fraction of a second. The measurement is barely noticeable by the patient.
This technology is based on a proven accurate measuring principle, in which a very light probe is used to make momentary and gentle contact with the cornea. This device makes measuring intraocular pressure a more pleasant experience.
Please Note: We no longer use the "PUFF OF AIR" instrument for testing pressure of the eye.
This instrument uses ultrasound to measure corneal thickness. Measurements of the cornea are significant in determining if you are a candidate for refractive laser surgery. Additionally, thin corneas can lead to falsely low-pressure readings and thick corneas can lead to falsely high-pressure readings. This test is done just once to create a baseline for future testing. Pachymetry may be needed if you are being considered for refractive corneal surgery or possibly glaucoma.
DIGITAL SLIT LAMP IMAGING
A high- resolution digital camera allows the doctor to have a permanent photo-image of the eye condition. This allows the doctor to manage external diseases and conditions of the eye.
InflammaDry is the first and only rapid, in-office test that detects elevated levels of MMP-9, an inflammatory marker that is consistently elevated in the tears of patients with dry-eye disease. Other dry-eye tests only measure tear production and stability. InflammaDry accurately identifies patients with dry eye in 4 simple steps allowing for optimal treatment methods and better quality of life.
Inflammadry helps us to determine if underlying inflammation must be medically treated as the doctor determines your overall treatment plan. It is also used to monitor the efficacy of treatment.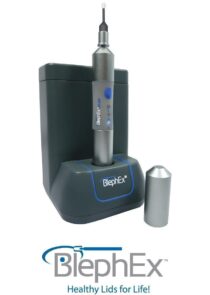 A Premium Refraction Experience – Phoroptor® VRx
BlephEx™ is a revolutionary patented hand piece, used to very precisely and carefully, spin a medical grade micro-sponge along the edge of your eyelids and lashes, removing scurf and debris found in moderate to severe blepharitis. It is an in-office procedure that is an important part of our dry eye protocol and can help exfoliate your eyelids. The BlephEx™ treatment is well tolerated and only takes a few minutes to perform, often saving the patient hundreds of dollars in the costs of prescription drops and artificial tears.

The Power of Okra
Eyelid and skin hygiene are essential to solve the underlying inflammatory response. Zocular® products change the paradigm for managing eye and skin conditions by incorporating a patented activated okra complex called Zokrex™.
Zocular has developed an eyelid debridement procedure called ZEST that's performed in the doctor's office to provide immediate and dramatic improvement in dry eye symptoms within minutes.
TearLab is the single most accurate and objective test for diagnosing Dry Eye Disease. TearLab generates an Osmolarity number, which provides significant information to the doctor. With its objective, quantitative endpoint TearLab Osmolarity correlates to increasing disease severity, and enables the doctor to monitor your response to treatment. The test is fast, easy, and accurate – requiring only 50-nanoliters of tear for analysis – a sample smaller than the period at the end of this sentence. It is also more patient friendly than older generation tests, as it is not intrusive, and requires no anesthesia.
Inflammadry helps us to determine if underlying inflammation must be medically treated as the doctor determines your overall treatment plan. It is also used to monitor the efficacy of treatment.
Request Your Appointment Today!
If you'd like to find out more about our practice or would like to schedule an appointment
with B-Town Eyecare, we invite you to give us a call today at 206.242.8545 or,
REQUEST APPOINTMENT
Please provide the details below and we will do our best to accommodate your request.
B-Town Eyecare
19987 1st Ave S, Ste 105
Normandy Park, WA 98148
Phone: 206.242.8545
Fax: 206.244.2020
Our Culture & Core Values
Innovation | Collaboration
Respect
Authenticity | Gratitude

© 2023 All Rights Reserved | B-Town Eyecare