DO YOUR EYELIDS BOTHER YOU?
It's a simple question that can be answered with a yes for many reasons. Some of our patients tell us they don't like how their eyelids weigh down their eyes, making it harder to see. Others tell us they feel their drooping eyelids make them look older. If your eyelids bother you, there are both surgical and non-surgical solutions that can turn back time to eliminate or remove sagging, drooping and hooded eyelids.
COMMON CAUSES OF DROOPY EYELIDS
Having more birthdays is a primary reason for drooping eyelids, yet there can be other reasons like these:
PTOSIS
Ptosis is a weakness in the muscle that controls the opening and closing of the eyelid.
NERVE DAMAGE
There are several muscles around the eye and damage to the nerves controlling these muscles can cause droopy eyelids.
BLEPHAROCHALASIS
Compared to Ptosis where the eyelid muscles weaken, with blepharochalasis, only the eyelid skin sags, not the entire lid.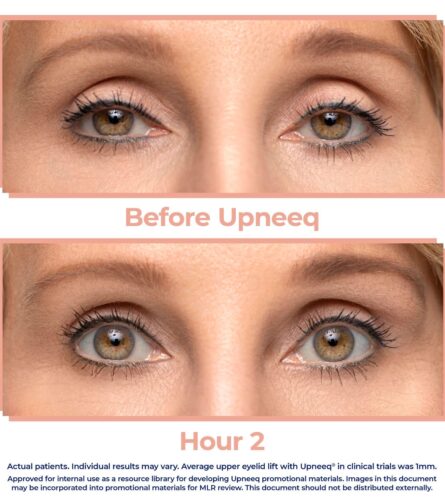 UPNEEQ™
A daily drop with uplifting results. UPNEEQ is the first and only FDA-approved eyedrop for acquired blepharoptosis (droopy eyelid) in adults. If droopy eyelids have affected your vision or appearance and surgery isn't an option for you, talk to us about UPNEEQ. Many patients have noticed results in as little as 2 hours. Look younger and see better. Droopy eyelids can interfere with daily tasks like reading, computer use, and driving. Droopy eyelids can even cause you to tilt your head back just to look up. UPNEEQ is a topical treatment that lifts droopy eyelids with just a single eye drop applied daily.
Contact our office today to schedule an appointment with Dr. Bansal to see if UPNEEQ can help you look younger and see better.
Request Your Appointment Today!
If you'd like to find out more about our practice or would like to schedule an appointment
with B-Town Eyecare, we invite you to give us a call today at 206.242.8545 or,
REQUEST APPOINTMENT
Please provide the details below and we will do our best to accommodate your request.
B-Town Eyecare
19987 1st Ave S, Ste 105
Normandy Park, WA 98148
Phone: 206.242.8545
Fax: 206.244.2020
Our Culture & Core Values
Innovation | Collaboration
Respect
Authenticity | Gratitude

© 2023 All Rights Reserved | B-Town Eyecare