Wellness Eye Exams for Kids
WHY IS IT SO IMPORTANT TO HAVE YOUR CHILD'S EYES CHECKED
EVEN IF THEY HAVEN'T VOICED ANY COMPLAINTS?
Importance of a Child's First Eye Exam
While it might seem odd to bring them in this early since they are not even able to speak yet, these exams are focused mainly on the health of the eye and detecting early signs of eye and vision disorders as well as certain types of tumors and diseases. After this, your child should be seen again at 3 years old, again before starting the first grade, and then every year unless otherwise recommended by your eye doctor.
"No Complaint" does not Equate to "No Problem"
Just because your child has not voiced an issue doesn't always mean they are not having one. A good majority of the time vision and eye problems will go undiagnosed/overlooked because a child simply doesn't know how to explain that they are having trouble. What's more, if they have had an undiagnosed visual need for most of their lives, they won't realize the blurriness they see isn't that way for everyone else or that an unblurry world is even a possibility.
Detection of Disease
Eye exams do not only check to see if there is a need for glasses. The health of the eye both inside and out is a major component of your visit. Many eye diseases do not present any symptoms at all until irreversible damage or vision loss occurs. Furthermore, the evaluation of the eyes can also tell your eyecare provider a lot about the health of the rest of your body. For example, did you know diseases such as diabetes can be detected through eye exams? Even brain tumors are often first diagnosed by a trip to the eye doctor.
Early Correction of Visual Needs
Addressing problems such as a lazy eye or eye turn early can oftentimes help to correct the issue or at least keep things from progressing. The same can sometimes be true of children who need to wear reading glasses at a young age – if their visual needs are met and tracked early on, they may outgrow the need for glasses.
Poor vision can lead to poor performance in school – Undetected vision and eye conditions can obviously impact your child's life in a multitude of ways. If they are struggling in school – especially if they have always been a good student- this could signify an underlying visual need that isn't being met. This could range between anything from a need for glasses to an eye muscle that isn't functioning correctly.
What some signs might be that your child could need glasses or other vision therapy? Here are a few common symptoms to be on the lookout for:
Squinting or standing close to objects

Eye rubbing

Extreme light sensitivity

Constant redness of the eyes

Poor ability to follow or track an object

Misalignment of the eyes or a visible eye turn

Trouble reading the blackboard at school

Complaints of headaches or eye pain

Poor performance in school or an aversion to reading, coloring, or puzzles

Pupils showing up as white instead of red in photos
CHILDREN'S VISUAL DEVELOPMENT
The first year of a child's life is crucial for the development of their vision. You should monitor their visual
changes throughout this first year to ensure healthy eyes and that their vision is developing normally.
RECOMMENDED EXAMINATION FREQUENCY FOR THE PEDICATRIC PATIENT
| | | |
| --- | --- | --- |
| | | At 6 – 12 months of age or as recommended by eye physician |
| | At least once between age 3 & 5 | At least once between 3 & 5 years of age or as recommended by eye physician |
| | Before grade 1 and annually thereafter | Before Grade 1 and annually, or as recommended thereafter by eye physician |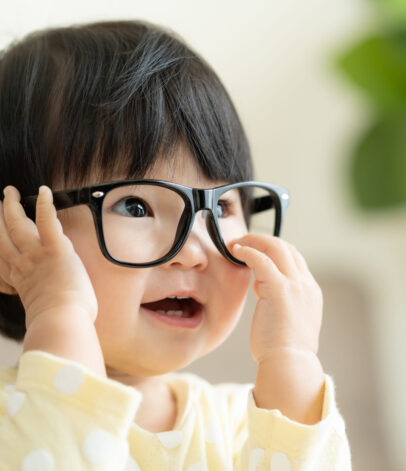 VISION SCREENINGS & EYE EXAMS ARE NOT THE SAME
An exam at the pediatrician's office and nurse's office at school are not replacements for comprehensive exams with an eye care professional.
Vision screening programs are intended to identify children or adults who may have undetected vision problems. If the screening indicates a vision problem, they are referred for further evaluation. However, a vision screening can't be relied on to provide the same results as a comprehensive eye and vision examination.
Screenings can take many forms:
Often schools provide periodic vision screenings for their students
Pediatricians or other primary care physicians may do a vision screening as part of a physical/annual exam
When applying for a driver's license, your vision will likely be screened
Vision screenings are often part of local health fairs put on by hospitals, social service agencies or fraternal groups like the Lions and Elks clubs
Vision screenings can uncover some vision problems, however, they can miss more than they find. This is a major concern about vision screening programs.
Current vision screening methods cannot be relied on to effectively identify individuals who need vision care. In some cases, vision screening may inhibit the early diagnosis of vision problems. Screenings can create a false sense of security for those individuals who "pass" the screening but who have a vision problem. These people are then less likely to receive treatment for their vision problem, and it could become worse.

three limitations of vision screenings
To understand why vision screenings may not find a vision problem, let's look at the factors that can limit their effectiveness.
Many vision screenings test only for distance visual acuity. While the ability to see clearly in the distance is important, it does not indicate how well the eyes focus up close or work together. It also does not give any information about the health of the eyes. Some screenings may also include a plus lens test for farsightedness and a test of eye coordination. However, even these additional screening tests will miss many vision problems.
Often, administrative personnel or volunteers who have little training conduct a vision screening. While well-intentioned, these individuals do not have the knowledge to competently assess screening results.
INADEQUATE TESTING EQUIPMENT
Even when done in a pediatrician's or primary care physician's office, the scope of vision screening may be limited by the type of testing equipment available. Factors such as room lighting, testing distances and maintenance of the testing equipment can also affect test results.
WHEN SHOULD MY CHILD HAVE THEIR FIRST EYE EXAM?
Your child should have their first eye exam at 6-12 months of age, even if they are not having any symptoms. This exam ensures that their vision is able to develop normally. Vision does not just happen. A child's brain learns how to use eyes to see. If their vision is not clear for whatever reason, vision will not develop fully. The earlier a vision deficit is caught, the better the visual outcomes will be. Children should be seen annually for an eye exam. If your child is diagnosed with a vision problem or eye condition, such as amblyopia (lazy eye), they will likely need to be followed more frequently.
The extent to which a child is at risk for the development of eye and vision problems determines the appropriate re-evaluation schedule. Children with ocular signs and symptoms require a prompt, comprehensive examination. Furthermore, the presence of certain risk factors may necessitate more frequent examinations based on professional judgment.
Factors placing an infant, toddler, or child at significant risk for eye and vision problems include:
Prematurity, low birth weight, prolonged supplemental oxygen at birth

Family history of myopia, amblyopia, strabismus, retinoblastoma, congenital cataracts, metabolic or genetic disease

Infection of mother during pregnancy (e.g., rubella, toxoplasmosis, venereal disease, herpes, cytomegalovirus or human immunodeficiency virus)

Maternal smoking, use of alcohol or illicit drug use during pregnancy

Cortical visual impairment

Difficult or assisted labor, which may be associated with fetal distress

High or progressive refractive error

Strabismus
Anisometropia

Academic performance problems

Known or suspected neurodevelopmental disorders

Systemic health conditions with potential ocular manifestations

Wearing contact lenses

Functional vision in only one eye

Eye surgery or previous eye injury

Taking prescription or nonprescription drugs (e.g., over the counter medications, supplements, herbal remedies) with potential ocular side effects
DID YOU KNOW?
WE ARE A PROVIDER FOR THE INFANTSEE PROGRAM
Our clinic supports the InfantSEE program developed by the American Optometric Association (AOA) and offers free eye assessments to babies between six and 12 months. This is especially important if your baby was premature or had any other birth defects.
The Eyes are a Window to the Brain
Eye exams and visual field testing do not replace other diagnostic tests to check for brain tumors but are used in conjunction with those tests to see how the tumor is affecting your vision and whether or not those effects will likely be permanent. Getting regular eye exams and telling your eye doctor about any problems or issues you are having with your vision or in your daily life is important. Additionally, an eye exam may be the first-time abnormalities are detected and the first time a patient hears they need to be screened for tumors or growths in the brain. That is why, for some people, an eye exam can be the first step towards saving their life.
Below is an example of a child seen by Dr. Bansal for a routine baseline exam at the age of 15. Routine visual field testing revealed that she had a mass in her brain. The good news is that it was caught early, was treated, and she is now living a normal life as a teenager.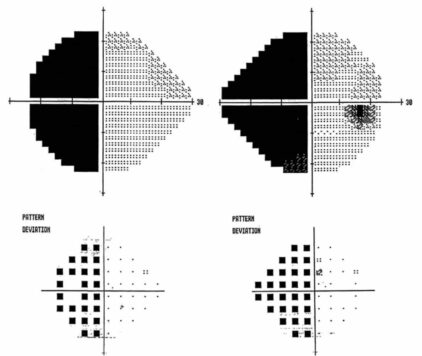 WHEN IS IT NECESSARY FOR MY CHILD TO BE DILATED?
Dilation is necessary for 2 main reasons:
Ensure that the doctor can assess the true power of an eye for prescription purposes. Medical eye drops are placed in the eye by the doctor or technician, and then we must wait at least 30 minutes for the drops to work. Most children have a strong focusing system, so the drops also allow us to get a reading of their true prescription that could be masked due to their focusing system being involved. Drops are completely safe for infants and children.

At their first eye exam, the standard of care is that all patients are dilated.

Allow the doctor to properly assess the health of the back of the eye to rule out ocular disease. These drops enlarge the pupil so we can thoroughly assess the health and the back of the eye.
HOW SHOULD I PREPARE MY CHILD FOR THEIR FIRST EYE EXAM?
With today's diagnostic equipment and tests, a child does not have to know the alphabet or how to read to have his or her eyes examined.
For young children, an eye exam can cause anxiety, especially if it is their first visit to an optometrist or if they are visiting a new clinic. Keep in mind that testing will be age appropriate and easy to answer, whether they include shapes, pictures, or letters. If your child has previously worn glasses, even if they do not currently wear them, please bring them with you. It is also very helpful for Dr. Bansal if you have a list of their medications and their medical history with you.
For infants and toddlers, we recommend bringing them after nap time and feeding. This way Dr. Bansal will have the best chance at getting the most information about their eyes. Please do not schedule them during a scheduled nap time or right before they usually have a meal.
You can also have them watch some fun videos of what happens during a typical eye exam!
WHAT ARE SOME COMMON VISION PROBLEMS BEYOND 20/20?
Another aspect of the visual system that is checked at every pediatric eye examination is your child's ability to use both eyes together. Normal binocular vision means that both eyes are being used simultaneously, equally, and accurately as a coordinated team. If binocular vision is not occurring, your child may experience symptoms such as eye strain, headaches, and/or double vision. Symptoms can start at any age and some diagnoses include:
Convergence insufficiency – the inability to effectively focus on a near target due to the deficiency in being able to bring the eyes inwards

Accommodative dysfunction – the focusing system in the eye is not able to effectively increase power to focus on a near target

Strabismus – one of the eye muscles is underacting, causing the eye to be turned, either constantly or intermittently. The most common strabismus is when the one or both eyes intermittently turns outwards
If you have any questions or concerns regarding your child's eye health and
vision or what to expect from their first eye exam, please give our office
Request Your Appointment Today!
If you'd like to find out more about our practice or would like to schedule an appointment
with B-Town Eyecare, we invite you to give us a call today at 206.242.8545 or,
REQUEST APPOINTMENT
Please provide the details below and we will do our best to accommodate your request.
B-Town Eyecare
19987 1st Ave S, Ste 105
Normandy Park, WA 98148
Phone: 206.242.8545
Fax: 206.244.2020
Our Culture & Core Values
Innovation | Collaboration
Respect
Authenticity | Gratitude

© 2023 All Rights Reserved | B-Town Eyecare