how we minimize our environmental impact
Sustainability at B-Town Eyecare is more than just a buzzword.
Sustainability is critical, especially in the healthcare setting. B-Town Eyecare strives to play its part to reduce its carbon footprint. Our goal is to provide professional eye care in a manner that is socially and environmentally responsible. In our practice, we work to support the community while minimizing our impact on people and the environment. Here are some of the ways we are accomplishing this.
We advocate "green" living by doing business in a space using reclaimed
and recycled materials within our office.
Our display cabinets, storage cabinets, countertops and trim work were
built using locally reclaimed materials.
Our carpet is made of 100% recycled plastic and rubber.
We use no VOC Miller paint on our walls.
We have incorporated other environmentally friendly materials such
as LED lighting; energy-efficient equipment, and even tinted windows
to reduce A/C consumption during the summer months.
We have made a commitment to carrying brands which are committed
to making frames, solution, and eye accessories through recycled
materials, fair labor, and other ethically focused methods.
We use recycled materials where we can – biodegradable soaps and
recycled paper towels, along with recycled pens and paper.
We also source local suppliers and encourage our patients to purchase from
a local optometry practice – this is the first step to sustainable eyecare.
The fact that inventory didn't have to be shipped to us via
plane or a long truck journey means less fuel was needed to deliver them.
We will continue to look for suppliers and partners that uphold sustainable values,
pay fair wages and focus on using fewer resources in general.
Our check-in and intake process are completely paperless, we use an online portal and have implemented EHR (Electronic Health Records) for recordkeeping. We also no longer perform insurance verifications on paper.
Although many patients prefer for prescriptions to be printed out, we do encourage emailing glasses and contact lens prescriptions. If any material must be printed out, the practice uses at least 30% postconsumer recycled paper.
Our practice also reuses order boxes from our local optical lab to reship orders.
We utilize software that allows the doctor to view all imaging and tests performing during the examination process, electronically in each exam room. This avoids printing a copy of the results.
Every year, about forty-five million Americans rely on contact lenses to see the world more clearly. This $2.7 billion U.S. market has made contact lenses more comfortable and disposable. Every day, these plastic lenses are tossed away by consumers in many ways, without much thought to their ultimate environmental fate.
A study from University of Arizona found
45 Million People in the U.S.
ARE FLUSHING THE LENSES DOWN THE SINK OR TOILET
1.8 – 3.36 Billion Lenses
ARE BEING FLUSHED PER YEAR
OF WASTEWATER-BORN PLASTICS ANNUALLY
Lenses that are washed down the drain typically are conveyed to wastewater-treatment plants. The study showed that wastewater plants fragment them into microplastics, which accumulate in sewage sludge. For about every two pounds of wastewater sludge, a pair of contact lenses typically can be found.
Sewage sludge is an abundant material routinely applied on land for sludge disposal and soil conditioning, thereby creating a pathway of macro- and microplastics from lenses to enter terrestrial ecosystems where potential adverse impacts are poorly understood.
44,000 pounds of contact lenses enter wastewater treatment plants annually in the United States. Of that, between 24,250 pounds and 27,900 pounds make it into the wastewater sludge applied to land as fertilizer or carted to landfills.
Entry of wastewater-borne contact lenses into aquatic environments is also a potential concern, although it was not directly observed in the study. However, it is known that run-off from sludge-amended soils can pollute surface waters. Fragmented contact lenses also may pass through the wastewater-treatment plant to enter surface waters as microplastics contained in reclaimed water. Aquatic organisms are known to mistake microplastics for food, introducing the indigestible plastics into long food chains.
Some microplastics eventually can find their way into the human food supply, causing inadvertent uptake and unwanted human exposures to both the plastic polymer and a spectrum of environmental contaminants that tend to stick to the surface of plastics.
Overall, contact lenses by nature cannot be as eco-friendly as eyeglasses because they must be made with non-biodegradable plastic. However, that shouldn't stop contact lens companies from thinking about their manufacturing and packaging processes.
If patients must wear contact lenses to support their health or lifestyle,
here are a few options available to them:
Bausch + Lomb
All their packaging is 100% recycled and their ReNu lens solution bottles are recyclable.
Acuvue by Vistakon
All ACUVUE containers are now made with 30% recycled cardboard instead of
plastic and their contact lenses use less packaging than other brands overall.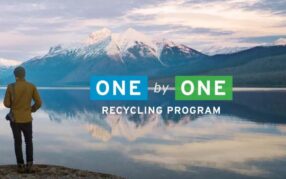 TerraCycle and Bausch + Lomb have partnered up to create a free recycling program for all brands of contact lenses, blister packs, and foil lids.
Participating in this program is completely free and extremely easy!
Simply drop off your used contact lenses, blister packaging, and foil lids.
PLEASE do not bring in the cardboard boxes the contacts come in as they are recyclable in your standard municipal recycling.
Contact Lenses

Plastic Film

Pods

Cardboard Packaging
When our recycle bin is full, we will ship to Terracycle, where contact lenses and blister packs are separated by composition. The metal layers of the blister packs are recycled separately, while the contact lenses and plastic blister pack components are melted into plastic that can be remolded to make recycled products. Other materials are recycled into raw formats that manufacturers use to make new products.
Donate your old eyeglasses, reading glasses and sunglasses to the Lions Club through our office. They accept both prescription and non-prescription eyewear. Volunteers sort, clean and determine the prescription strengths of the glasses. They are then packaged and stored them until they are required for eyeglass dispensing missions around the world. At mission sites, eye care professionals and trained Lion volunteers perform vision screenings and dispense the appropriate recycled glasses, free of charge, to children and adults in need. Broken, unusable glasses are recycled, keeping them out of landfills and providing "scrap to cash" income that can aid local community projects.
When possible, we do our best to use and sell items and products that have minimal or no impact on the environment. One of the most exciting non-toxic additions to in-office products available for patients are made by "We Love Eyes". This innovative company proudly uses kraft paper for their secondary packaging from day one. In 2019, they began sourcing and testing new materials to promote a circular economy and a happier planet. Formula allowing, 100% of their products are in glass, post-consumer recycled, and/or bio-based materials with the mindfulness towards refillables and monoplastics for easy recycling.
"Ingredients mean everything when it comes to the high maintenance needs of the eyes."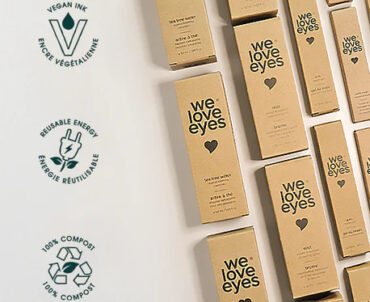 We use LED lighting throughout to save on energy
usage by integrating ENERGY STAR-rated products that use at least 75% less energy. If feasible, we also utilize Eco-Lights, a low-wattage type of lighting made from recycled materials, ecologically harvested timber, and other earth-friendly ingredients
We have ionization units installed on our rooftop HVAC air intakes, which then deliver clean indoor air that is safe and healthy, producing neither ozone nor other harmful by-products. The ionization units purify the air by eliminating airborne particulates, odors, and pathogens. We also have HEPA filtering units in each of the rooms in the office to further provide healthy air.
Beyond the routine office operations, our practice also focuses on giving back to the community through neighborhood clean-ups, especially around the Normandy Park Town Center.
Request Your Appointment Today!
If you'd like to find out more about our practice or would like to schedule an appointment
with B-Town Eyecare, we invite you to give us a call today at 206.242.8545 or,
REQUEST APPOINTMENT
Please provide the details below and we will do our best to accommodate your request.
B-Town Eyecare
19987 1st Ave S, Ste 105
Normandy Park, WA 98148
Phone: 206.242.8545
Fax: 206.244.2020
Our Culture & Core Values
Innovation | Collaboration
Respect
Authenticity | Gratitude

© 2023 All Rights Reserved | B-Town Eyecare